Why Is She Famous?
Before they could barely walk, the Olsen twins were already known across the land as the irresistible "Michelle Tanner" on Full House. Milking the children's market, the twins established a virtual empire, producing several straight-to-video movies, interactive games and a full-length big-screen feature called It Takes Two. Now, Mary-Kate and Ashley have their own line of clothing and perfume to add to their constant TV appearances.
Ashley Olsen
Date of Birth:
13 June 1986, Sherman Oaks, California, USA
Birth Name:
Ashley Fuller Olsen
Nickname:
Ash
Height:
5' 3" (1.60 m)
Nationality:
American
Occupation:
Actress
Claim to fame:
as Michelle Elizabeth Tanner on Full House (1987)
Ashley Olsen photos

Filmography:

Full House: The Complete First Season ( 2005 )




New York Minute ( 2004 )




Charlie's Angels: Full Throttle ( 2003 )




Billboard Dad ( 1998 )




The Little Rascals ( 1994

Ashley

Fuller

Olsen Images
Mailing Address:

Mary Kate & Ashley Olsen
c/o Dualstar Productions
3760 Robertson Blvd
Culver City, CA 90232
Ashley Olsen Lovely Image
Awards:
DVD Exclusive Awards
Year : 2003
Category : Franchise Performers Award
Won
Young Artist Awards
Year : 1994
Category : Best Youth Actress in a TV Mini-Series
For : Double, Toil And Trouble
Won
Young Artist Awards
Year : 1992
Category : Exceptional Performance by a Young Actress Under Ten
For : Full House
Won
Young Artist Awards
Year : 1989
Category : Best Young Actor/Actress - Under Five Years
For : Full House
Won
Ashle Fuller Olsen & Mary-Kate Olsen Sexy Wallpapers
Mary-Kate and Ashley Olsen Biography:
Though they look identical, Mary-Kate and Ashley, born on June 13th, 1986 in Sherman Oaks, California, are actually fraternal twins. Ashley is the "older" one, arriving a full two minutes before her sister. A close family friend persuaded reluctant mother Jarnette to take the four-month-old babies to an audition for a TV sitcom that was about to begin filming. After the producers held the babies in their arms without inducing any crying, the twins were rewarded with their first role, in the easiest audition they would ever have to do.
Ashley Fuller Olsen Pictures
standouts in a full house




Mary-Kate and Ashley Olsen, in the shared role of "Michelle Tanner" on the new hit series Full House, instantly won over television audiences. The Olsen twins became baby celebrities right from the show's debut in 1987, opposite the performances of Bob Saget, Candace Cameron and John Stamos (who they are apparently still close to). The lessons and family-oriented comedy that Full House presented to the public were very well received, and paved the way for Olsen mania.
Ashley Fuller Olsen Signed Pictures
dualstar for dual stars
Young kids, especially girls, began to idolize the Olsen twins as they saw them mature so quickly, year after year, on TV. Soon, Full House merchandise was available, with Mary-Kate and Ashley's name all over it. After the books and dolls sold like hotcakes, a now proud mother, agents and managers put their heads together and formed a company that could develop and coordinate the twins' potential. Dualstar Entertainment was created to directly handle all things Olsen.
Ashley Olsen & Mary-Kate Topless Picture
During their run on Full House, Mary-Kate and Ashley also came out with a slew of straight-to-video and made-for-TV movies, including Double, Double, Toil and Trouble and How the West Was Fun. After management in the new production company saw how "tweens" (children aged between 8 and 12) ate up this kind of entertainment, they kept the projects coming. In fact, the videos became so successful that the Olsens could afford to experiment a little -- they even became the youngest producers in history after doing work on one of their films at the age of six.
Ashle Fuller Olsen & Mary-Kate Olsen Wallpapers
girls of media
Even though Full House was canceled after eight seasons in 1995, the twins kept up their heavy workload. An album was recorded, called Brother For Sale, and did so well that it spawned five more follow-ups. Mary-Kate and Ashley video games and books hit stores and, by putting a wholesome spin on the woes of growing up, established the twins as a reputable business entity. Any product that their name was attached to flew off the shelves.
Ashley Olsen & Mary-Kate Wallpaper
In 1995, the Olsen twins, not even 10 and already famous worldwide, made their first feature film, called It Takes Two. They were paid $1.6 million for the movie and, though it didn't do well in theaters, raked in $75 million when released on video. Going back to the old formula of straight-to-video creations, the Olsens rediscovered a tried and true -- not to mention lucrative -- formula. Those that bought the Olsen videos were also likely to purchase a Mary-Kate and Ashley schoolbag and interactive video game.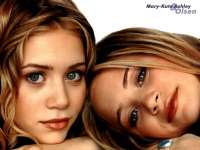 Ashley Olsen & Mary-Kate Photo
mature at home and at work

Despite the money and fame, the twins' parents, who divorced in 1993, made sure they remained levelheaded and disciplined. It was only until recently that Mary-Kate and Ashley stopped getting a $10 per week spending allowance and were granted credit cards.
Ashley Olsen Lovely Image
Growing older and more capable of handling some of their own projects, the twins tried their hand at a sitcom once again with Two of a Kind, in 1998. Unfortunately, the series only lasted one year, but that did not discourage the girls. They co-starred in another sitcom in 2001 called So Little Time, whose airtime was also limited to a year.
Ashley Olsen Pictutures

teen millionaires




In a career that has been more redundant than that of most actors around, the Olsens are finally making a change. Now that they are on the cusp of adulthood, they are capable of taking on new challenges, including a clothing and lifestyle brand called mary-kateandashley. The older teen generation has accepted them as well; the Olsens can now be seen presenting awards at several shows, including the 2002 MTV Video Music Awards.
Ashley Olsen Lovely Pictures
The numbers reflecting Mary-Kate and Ashley's success are staggering: 40 video titles that have sold 30 million copies, 6 music albums that have sold a total of 1.5 million copies, and 29 million books sold -- and they're not through yet. This helped Dualstar Entertainment earn $500 million in 2001 and around $1 billion in 2002. Consequently, the girls, who became co-presidents of the company once they turned 18, are now worth hundreds of millions... each.
Ashley Olsen & Mary-Kate Olsen Sexy Hot Image
double our excitement




Despite these figures, their work never stops. Between finishing high school, attending fashion shows for their clothing lines, and giving input to everything their name is attached to, Mary-Kate and Ashley filmed a cameo appearance in the Charlie's Angels sequel, Charlie's Angels: Full Throttle. If their past is any indication, they will be going on all eight cylinders for quite some time.

In 2004, they starred in their own full-length film, New York Minute, and finally officially became legal adults. And now that Mary-Kate and Ashley are attending New York University, look out for them to appear in the tabloids (and party circuit) even more.
Ashley Olsen Wallpaper
Trivia:
Twin sister of Mary-Kate Olsen.
Older sister of Elizabeth Olsen.
In real life she and Mary-Kate are very close to John Stamos, who played their uncle Jesse on "Full House" (1987).
Enjoys shopping, going to the movies, listening to rock music (Counting Crows), cheerleading and Tae Bo with her sister.
Hobbies include dancing and tennis.
At age 6, she and Mary-Kate became the youngest producers in history.
She and Mary-Kate both had to wear fake teeth during the later years of "Full House" (1987) because their teeth began to look different.
Has a bi-monthly magazine called Mary-Kate and Ashley Magazine
Has a line of clothing with sister Mary-Kate that is sold at Wal-Mart
When she was young, she and Mary-Kate used to call their "Full House" (1987) co-stars by their characters names so they wouldn't mess them up during taping.
Enjoys playing golf.
In 1993 she and Mary-Kate were supposed to play young Eves (Teena and Cindy) on "The X Files" (1993), but were eventually replaced by the Krievins twins (Erika Krievins and Sabrina Krievins) from the nearby of Vancouver. The reason were very strict child labor laws.
Younger sister of Trent Olsen.
Ranked #61 in FHM's '100 Sexiest Women' poll of 2003
On their 17th birthday (June 13, 2003), the U.S.'s Cable News Network (CNN) announced not only their birthday but the twins' total financial worth -- $150,000,000 for EACH. The same news source predicted the twins may be billionaires by the time they're 21.
During the earlier seasons of "Full House" (1987), the producers did not want it known that Michelle was played by twins, so Mary-Kate and Ashley were credited as Mary Kate Ashley Olsen.
Ashley Olsen Twins
She and her sister became the youngest self-made millionaires in American history before they were 10 years old.
Her favorite subject is Math.
Her favorite city is Paris
Wears a size 5.5 shoe.
At 17, she and her twin sister Mary-Kate were rated 2003's 2nd hottest teen female stars.
14 February 2005 - she filed a $20M libel suit against the "National Inquirer" for alleging her involvement in a drug scandal.
She donated many signed head-shots to Rocky Stone to be auctioned off to raise money to buy more toys for less fortunate kids as part of the Toy Mountain Campaign 2004.
She is of Danish descent.
Born at 10:25 am PDT.
She will be appearing alone on the cover of the July (2005) issue of Harpers Bazaar
Ranked #3 in VH1's list of the "100 Greatest Kid Stars" with sister Mary Kate
Parents are David & Jarnette (divorced)
Has a stepsister, Taylor & a stepbrother, Jake
Named #32 in FHM's "100 Sexiest Women in the World 2005" special supplement. (2005)
Her film 'New York Minute' earned only $5.96 million during its opening weekend. This was the lowest amount ever earned for any film opening in over 3,000 theaters.
She and her sister Mary-Kate were both ranked#6 in E's 50 most cutest child stars all grown up.(2005)
Ranked #37 on the Maxim magazine Hot 100 of 2007 list. (She was listed alone, her sister Mary-Kate did not appear anywhere on the list).
Recently launched a clothing line called The Row along with Mary-Kate. [2007]
Was ranked #5 on Forbes List of The 20 Top-Earning Young Superstars.(2007). with sister Mary Kate.
In 2004, her wealth was estimated to be $137 million.
Was cast as Christie in "The Informers" (2008) but dropped out at the last minute for undisclosed reasons. She was replaced by Amber Heard'.
Ashley Olsen Images
Ashley Olsen Quotes:
We've stayed really normal and down to Earth I think, and haven't let the success thing go to our head.
(about Mary-Kate) "She's always there for me when I need her; She's my best friend; she's just my everything."
Some twins feel like they need to compare themselves to each other, but we're not that way. That's because of my parents, though, and having six kids in the family.
Lizzie plays club volleball and Trent is an amazing writer. We're lucky our parents didn't stereotype us, so we could figure out who we are for ourselves.
Ashely Olsen wallpapers
"Since we were 9 years old we've been seeing ourselves everywhere. We're so used to it, it doesn't really affect us." - on her world-wide fame alongside her sister Mary-Kate
I am very down to earth and practical.
I'm the type of person who would rather stay home than get my picture taken. I'm the most private person.
I don't think you necessarily need to show off your stomach and boobs to be sexy. I'm just not attracted to that type of dressing.
"We're normal teenagers -- except we travel more and we run a company."
---Ashley Fuller Olsen